Lifts for new build homes, installed and ready for use !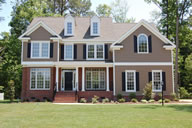 We undertake the installation of lifts in a development site and provide the home builder with lifts, installed, tested, and ready for use.
The lifts:
The lifts we supply are our own product and are not available from any other source.                                                                               The lifts can carry a load of up to 400Kg (5 persons), travel at a speed of 0.15m/s, have automatic doors, can work automatically like any regular commercial lift, consume very low electricity and have low annual maintenance cost.
The lifts are robust, reliable and have been designed a for long service life.
The lifts have in addition extra safety features, as would be expected from a home lift, when compared to a commercial lift.
Among these features are:

The lift continues to work normally for

down

calls during electricity cut-off
Door protection with multi-beam optical safety edges
In-car stop switch to stop the lift in case of an emergency
Disable key-switch to prevent children from playing with the lift
For a complete list of the safety feature please see lift user safety.
Home builders that have their own installation facilities can buy the lifts as a complete package.